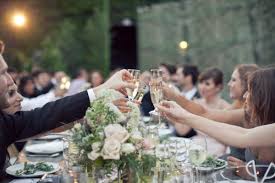 "Never outshine the bride."
It's an unspoken rule when attending weddings, everyone just knows it's a great sign of respect and courtesy. But that doesn't mean you can't glam your way to being the prettiest guest! Here are some of the DOs and DON'Ts that every #NOBASIC woman should know so you can look your best without upstaging the most important lady in a wedding event.
DO consider theme and location
More and more couples have recently been opting to get married outside of churches. Since a wedding is a special ceremony, guests have gotten used to wearing something formal but there are beach and garden weddings now so it's important for guests to consider the location first when deciding what to wear. If the couple chooses an outdoor venue, try a flowy maxi dress with dainty prints. It's important to wear something you can be relaxed in because weather is a huge factor in any event that's held in the open.
A halter neckline, flounce details and floral prints that reflect a young and free-spirited style.
DON'T wear white
We've all heard this and it's a pretty obvious thing to remember because the bride will be wearing white. Don't wear something with white laces either or anything that the bride will surely have incorporated to her own dress. Choose a dress with another color that's more dominant than white. Go for gentle hues, avoid bold colors so as not to draw too much attention to yourself.
The perfect for color blocking, it has zipper closure and adjustable straps to ensure you're comfortable from the ceremony down to the reception.
DO cover up
Weddings are one of the biggest family gatherings. Baring some skin is fine especially since we've established that weather and location are prime factors but be careful not to over-do it. This also brings us to considering the time of the event. Although weddings are usually held either during mornings or afternoons, receptions can last until after sundown. So it might seem like a good idea to go backless only for the earlier part of the happenings; bring something to cover yourself like a shawl or choose a dress with sleeves. And remember, it's okay to go for something sexy as long as you keep it classy!
Black mesh long dress with embroidered dress is perfect for lounging with a line skirt that makes it ideal for all body types.
DON'T wear jeans
Jeans are too casual for nuptials. Even if you pair it up with a blazer and a pair of heels, it just doesn't look "wedding-worthy" enough. If you don't like wearing long dresses, you can go for a formal 2-piece ensemble with a knee-length skirt. It would also be a win win for you because you can reuse the top and bottom to create different looks for other occasions. But if you're really not a big fan of clothes that flaunt your legs, ditch the jeans for a jumpsuit instead. Find one that still has a semi-formal vibe to it. It's texture and design should be able to set it apart from the kind of jumpsuit you would wear to a weekend stroll.
A slim silhouette with peplum details work well to highlight the body's natural curves. It's floral lace patterns give it a sophisticated feel for a wedding-ready look.
Keep yourself comfortable throughout the day while still giving you a feminine look, perfect if you're going for a delicate yet smart and sharp peg.
There are a number of ways to perfectly dress up for a wedding without outshining the highlight of the event but still looking and feeling glam as ever. Go for #NOBASIC looks and check out more of our dress options via https://www.nobasic.com/.  
IMG SRC: 
detroitweddingday.com