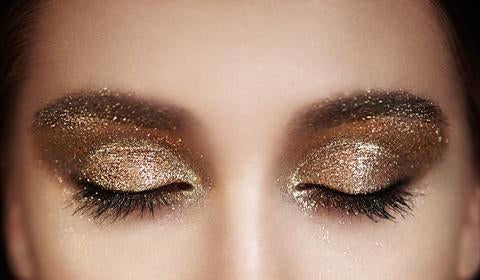 Humans seem to be inherently attracted to shine and our fixation for shiny things can be traced as early as the Stone Age when cavemen embellished their cave paintings with flakes extracted from shiny rocks called, mica. Even shine in fashion has its roots as far back as ancient civilizations when jewelry made from gold and other precious stones were worn as amulets and to display social status and wealth.
In modern history, the rise of shiny fashion trends began in the 1920s as women sewed beads and sequins on dresses, which we now know as flapper dresses. And it was in 1930s when Henry Ruschmann forever changed the glitter game with his invention of modern-day plastic glitters. Since then, glitter has found its way and uses in almost every decade, most notably during the disco and glam rock era of the 1970s. From Donna Summers' shiny disco pants to David Bowie's glittered lightning bolt makeup, glitters have become a symbol of glamour and pretty much anything that is larger-than-life. Probably why performers like drag queens love to use it for entertainment.  
For a while, glitter in makeup lost its, well, shine, when it was considered juvenile and even tacky. But things are turning up pretty good for glitter these recent years as fashion begin to embrace it again, not just as embellishments on jackets or a dab of shimmer on cheekbones, no, glitter is taking center stage once more.
The digital age has influenced clothes and makeup as well. With everything viewed on screens, photos with the greatest impact usually win and no better way to catch attention than a photo that catches light beautifully, a photo that sparkles. So designers turned to the ever-reliable gang --- glitters, sequins, beads, pretty much anything that sparkles --- and assembled their latest collections with their modern takes on glitters. Even glittered shoes have found its way back into the market.
Thanks to icons like Bowie and Iggy Pop, glitters evolved from a mere craft item into a beauty essential that is re-emerging these days. Makeup brands have launched their glitter makeup lines ranging from INC.redible and Chanel's subtle lip sheers to L'Oreal Paris' metallic lip gloss, and from YSL Beaute's full metal eye shadows to Marc Jacobs' frosted eyeshadow palettes.
Now, glittering fashion trends may be a bit overwhelming for some, which is acceptable  because not everyone can pull it off like Lady Gaga. Sometimes a touch of glitz here and a dab of glimmer there is all you need. When you're out on a date, dazzle your date in an Aqua Sequined Dress with strappy shoulders that frames your facial features better and highlights your legs. Just remember, to keep your hair and makeup to a minimum and let your personal charm do the rest for you.
A slim silhouette to highlight long legs and a slender figure.
Shimmering clothes are not just for evenings anymore. Wearing one during the day has become the new normal. So take great photos while out on a stroll with your friends in a high-rise lace skirt with metallic gold hemline detail like this. Catch the sun and look effortlessly luxe even with just a plain shirt!  
This head-turning conversation piece that celebrates versatility and individuality.
It is great and practical to have one or two shiny items handy for everyday use like this Arizona Haze bodysuit that has enough shimmer to pull off a day look with a pair of denim shorts or an evening look with a full skirt. Then there is this Silver Velvet Stella bodysuit to show off your free-spirited nature either with a tulle skirt or ripped jeans.
Wear on your tropical holiday and while exploring the festival grounds this season. 
Just do not forget when rocking glittery fashion that 'less is still more'. Choose one as your 'glittering' statement and keep the rest sleek and clean. If you go with a shiny lips, then keep everything else on your face as basic as possible. Be careful not to overdo it no matter how enchanting glitters are.
Channel your inner 70s glamazon with this silver velvet bodysuit with star print details.