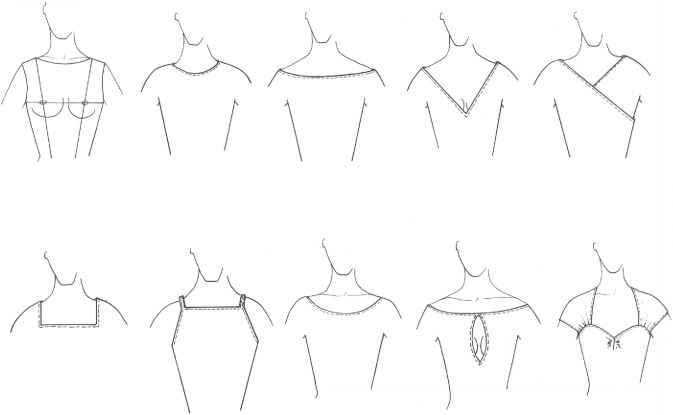 Have you ever seen a beautiful piece of painting and gets put off by its frame? Frame size, material, style can either make or break a piece of art and the same goes with necklines. Necklines frame your face and it helps you create that perfect first impression. So knowing the different types of necklines can do wonders for your facial features and your everday ensemble in total. Sure, you want your clothes to accentuate your body's assets but it should also draw attention to your face.
There are a lot of necklines to choose from, from the basic cuts like boatneck and V-necks to their different variations of depth, height, and length and of course there are combinations of two to three types. Here are some basic yet timeless types of necklines to complete your core wardrobe essentials. 
Round Neck: One of the, if not THE most universal cut of neckline. It is used on your favorite t-shirts and even on dresses! It is flattering for most body shapes but most especially for women with small to medium busts. A jewel neckline is a variation of the round neckline and is mostly used in dresses. It dips slightly lower than most roundnecks and rests where a short necklace ends, hence the name. Because of its range, it seems you can never go wrong with it, be it in casual clothes or formal designs.
Dab some tint on your cheeks as peach as this dress.
Halter Neck: One of the sexiest necklines you can possibly wear! Even way back in the 1800s, women loved showing off their shoulders and that remains true today. For women with medium to full busts, halter tops can be their new bestfriends. Women with fuller figures can benefit from this cut because it draws attention away from the waist and more towards the shoulders and face. Halter tops are popularly worn for evening affairs and dinner parties because of its dramatic effect. Just pair it with dangling earrings or put your hair in a bun to add a touch of flair.
This halter lace overlay number is one to add to your wardrobe. 
V-Neck: Another versatile neckline that works well in casual clothes as well as in formal dresses. And, flattering to all body shapes too. Since it is a vertical cut it creates a more elongated silhoutte , something very flattering to petite women and those with larger busts. The depth of 'V' will determine its appropriateness. Higher cuts are more for laid back looks while lower or plunging 'V's are best worn on special occasions.
Chic and sweet in this powder pink lace dress.
Sweetheart Neckline: One of the most-enduring necklines and probably exclusive for women too! It frames a woman's face like no other. Its two curved edges resembling the shape of a heart balances and highlight facial features proportionally. It shows the right amount of skin, especially cleavage and perfectly draws attention towards the face which is why this is one of the favorite necklines used in bridal gowns. 
Lounge in style with this striped mid length dress, ideal for all body types. 
Off-Shoulder Neckline: This is a continuous cut that goes around both shoulders. Similar to halter neckline, it is sexy without going over board. Curvy women can enjoy showing some skin while hiding their arms. Off-shoulders hemlines can be symetrical or asymetrical and can come in different styles - gathered and gartered, with semi-sweetheart scallop and even with ruffles! Also known as Bardot neckline, this is versatile that it can be found in casual tops and dresses to bridal gowns.
The red off shoulder jumpsuit makes a style statement that spells: modern. 
IMAGE SOURCE: http://www.martelnyc.com/