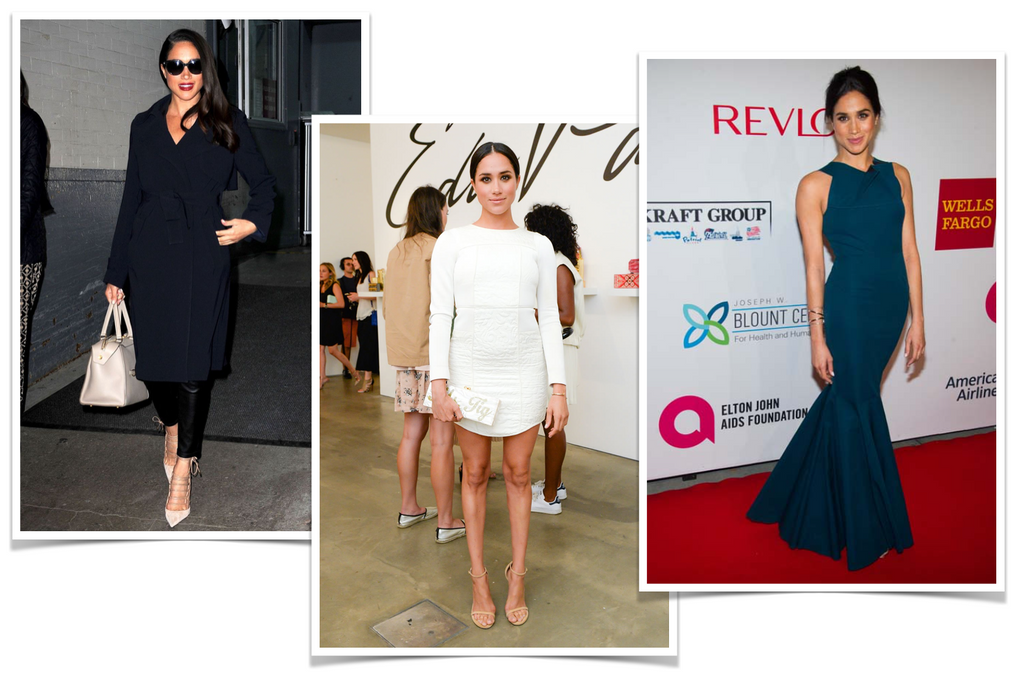 Megan Markle's Fresh Take On Dressing Like A Royal
Modern day princesses have a distinct way of dressing and carrying themselves. It is so distinct that even from a mile away, they can be spotted. There's something about the way their suits fall perfect from their shoulders or how their knee length pencil skirts are tailored with clinical accuracy. It tells us that elegance and simplicity are guiding principles to dressing like a royal.
In past years, we've seen a new breed of royals. Young, beautiful and with a zest for life, these individuals have slowly changed that way we perceive the beloved royal family. While they obviously subscribe to a specific set of rules when it comes to decorum and etiquette, these young blue bloods are showing a more human and relatable facet about them.
It is a trait shared between Princess Diana and now Kate Middleton that endears them to the world even more. These women break have dared to break away from tradition and protocol by making lifestyle and fashion choices not commonly afforded by a royal life. We have Princess Di to thank for starting this movement. It all began when she insisted on choosing her engagement ring from a catalog. Decades later, and due perhaps to the strong influence she had on her children, modern day princess are reinforcing their own sense of style and individuality. The Duchess of Cambridge has won hearts because of the new energy and relatable style.  

Day dresses are best in blue, makes your skin tone glow.

More recently, she was also joined by future (and speculated) Duchess of Sussex Meghan Markle in the limelight.
Markle's fashion choices speak volumes about how she plans to take on the responsibilities of being a royal. Her casual, relaxed and nonchalant sartorial approach have become the center for most fashion discussions. Markle takes inspiration from the effortless style of French Vogue Editor Emmanuel Alt. It is that "je ne se quoi" about the French that make them a strong style reference, especially for the future royal. This probably explains why on several occasions, she was spotted wearing a messy hair bun to a royal function while everyone else in attendance had perfectly coiffed hair. Markle also turned heads when she opted for a cross body bag when fellow nobles were carrying the subscribed top handle purse.

Never go wrong with a simple white lace dress.

Before all the attention from her relationship with Prince Harry and just last year, the royal engagement, Markle was quite the fashion force. As an actress, she was often spotted wearing chic couture creations from Marchesa to Mouret with alluring nonchalance. Fashion observers were quick to take note of Markle's versatile and chameleon-like style sensibility. Appearances on the front row of New York Fashion Week saw Markle to integrate her own laid-back take on runway pieces by designers like Tracy Reese, Peter Som and Max Azria, to name a few.
Today, the former red carpet and front row regular is making public appearances for a new role: that of a modern royal. And she's been breathing a distinct style into the part. We chronicle Megan Markle's royal journey and fashion evolution, as she gets ready for the biggest role of her life.

Show just the right amount of skin, stay classy.
Markle stunned in feminine day dresses in various shades of blue during several Polo matches. Paired with a hat and a pair of sunnies and she was a sight that could inspire a prince to a goal.
Official engagement photographs of the young couple featured a glowing bride-to-be in an immaculate white casual ensemble. White pieces—from oversized coats, to lace overlay dresses and even tailored bodycon cocktail numbers—look absolutely amazing against a golden tan like Markle's. One particular image of the couple in formal wear perfectly captured the young bride's effortless elegance. Swathed in a navy sheer embroidered gown, she was every bit the modern day princess.


One color ensemble or monochromatic fashion is pure love.
There have also been several functions, appearances and royal visits where Markle integrated sleek, street style sensibilities onto a classic trouser and top ensemble. Following her signature monochromatic palette, Markle reworks the iconic suit by pairing a wide leg trouser with cozy jumpers, sometimes layering them with a coat.